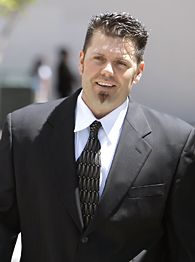 After apparently solving all other problems in America, the
Feds continue to go after
Greg Anderson, Barry Bonds' former personal trainer and pharmaceutical entrepreneur. Anderson has been in and out of prison since 2006 for his refusal to capitulate to the Feds' strong arming and testify against Bonds for alleged perjury.
Even after
twenty federal agents in January raided
the home of his mother-in-law who has been targeted in a tax probe, Anderson has remained indignant and held his ground. This raid is an obvious retaliation against Anderson by the Feds who are trying to hit him in his most vulnerable targets. When the mob commits acts of jack-booted aggression against its enemies, this is known as a crime. This is standard operating procedure when done by the Feds.
Stay strong, Greg.